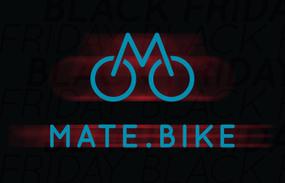 Zur Partnerseite
Die besten MATE.BIKE Black Friday 2022 Deals
Mate.bike is a Copenhagen-based startup founded in 2016 by the siblings Christian Adel Michael and Julie Kronstrøm Carton who want to engage today's challenges of dense traffic congestion, climate change and health issues in general by creating unique, fun and affordable electric bicycles.
Christian has an entrepreneurial background with vast experience in procurement, sourcing, and e-commerce, whereas Julie has an academic background as an Associate Partner at Copenhagen Institute for Futures Studies, just as she has worked with sustainable solutions and urban planning.
By making eBikes cool, sexy, practical and affordable, we wish to take bicycling global as the preferred mode of transportation for more people in urban areas. In the summer of 2016, we launched the original MATE on Indiegogo and successfully crowdfunded USD 6,8 million.
In July 2018, we launched our second crowdfunding campaign on Indiegogo to fund the new MATE X. This campaign has raised more than USD 17 million, making it the most successful European crowdfunding campaign in history.
Mehr lesen
IN DIESEM JAHR BEGINNT DER MATE.BIKE BLACK FRIDAY SALE AM 24. November 2022 um 19 Uhr
Anbei die MATE.BIKE Black Friday Termine für die nächsten Jahre:
MATE.BIKE Black Friday 2023:

MATE.BIKE Black Friday 2024:

MATE.BIKE Black Friday 2025:

MATE.BIKE Black Friday 2026:

MATE.BIKE Black Friday 2027: